Step 4 - The Sign of Entrustment
"1 Promise & 5 Easy Steps" Program
< STEP THREE
STEP FIVE - NEXT >
Wear a Sign of Entrustment
As a sign of your ENTRUSTMENT you can choose to either wear the Miraculous Medal or the Brown Scapular of Our Lady of Mt. Carmel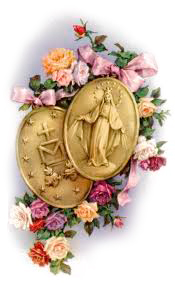 A Miraculous Medal designed by the Queen of Heaven
Now that you have Entrusted your life to the Immaculate Heart of Mary, feel honored to wear a 'sign of your Entrustment' to your HEAVENLY MOTHER!
When you become a member in an organization, you wear a badge or some kind of sign so others know you are member.
When you entrust your life to Mary as your Spiritual Mother, she would like to see you wearing a sign of your love and that you belong to her.
Invite a priest or deacon to come on the day of Entrustment.
Children pray the Entrustment prayer.
Priest or Deacon blesses the miraculous medals and or brown scapulars, and Prays the Investiture prayer (this invests the child in the Miraculous medal or Brown Scapular)
Here are the Prayers:
Our Lady wishes everyone to wear the Miraculous Medal!
"I promise great graces for those who wear it with confidence."
– Our Lady to St. Catherine Laboure