LENT AND THE MESSAGE OF FATIMA
Clergy, Teachers, and Parents!
Click here for a message to you from Father Chris Alar, MIC
Marians of the Immaculate Conception
HELP OUR CHILDREN AND YOUTH TO USE THEIR
CELL PHONES FOR SMALL ACTS OF LOVE for the conversion of others and for Peace in their families, country, and the world!
Here's How!
View flipbook and treasure sheets on the sidebar! This program can also be used as a Lenten Retreat for children!
Third apparition of Our Lady of Fatima
July 13th ~ 1917
Our Lady set the scene and gave the children — and us — a way to help others so they would not end up as part of the vision she was going to show them next, a vision of hell.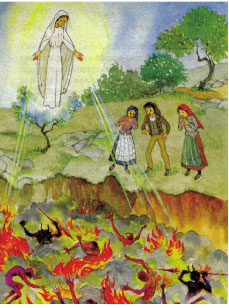 She said:
"Make sacrifices for sinners and say many times, especially whenever you make some sacrifice:
"O Jesus, it is for the love of you, for the conversion of sinners, and in reparation for the sins committed against the Immaculate Heart of Mary."
______________________________
ANGEL OF PEACE AND SACRIFICES
Two months after his first visit, the Angel of Peace appeared for the second time. The Little Shepherds were playing on the stone slabs of a garden well when suddenly, they saw the Angel.
He said to them:
What are you doing? You must pray! Pray a lot! The Hearts of Jesus and Mary have merciful designs on you. You must constantly offer your prayers and sacrifices to GOD, the Most High.
Lucia asked the Angel, "How are we to make sacrifices?"
The Angel said,
Make everything you can a sacrifice. Offer them to GOD as an act of reparation for the sins by which He is offended, and to ask for the conversion of sinners. In this way you will bring peace to your country. I am the Angel of Portugal. Bear and accept with submission the sufferings GOD will send you.
______________________________
Corporal and Spiritual Works of Mercy
Corporal Works of Mercy
The Corporal Works of Mercy are these kind acts by which we help our neighbors with their material and physical needs
Feed the hungry
Shelter the homeless
Clothe the naked
Visit the sick and imprisoned
Bury the dead
Give alms to the poor
Spiritual Works of Mercy
The Spiritual Works of Mercy are acts of compassion, as listed below, by which we help our neighbors with their emotional and spiritual needs.
Instruct
Advise
Console
Comfort
Forgive
Bear wrongs patiently